Is the poor economy breeding bully boys?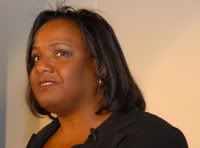 Britain's 'crisis of masculinity' is due to the economy, says Diane Abbott.
Cross-party political think tank Demos marked its twentieth birthday last week, celebrating with 'a series of lectures looking at some of the biggest challenges facing society over the next 20 years'.
No mean feat.
Jon Trickett MP, shadow minister for the Cabinet Office, talked about tackling political disengagement and increasing civic participation.
Paul Burstow, MP, tackled the subject of the aging population and whether our public services are fit for purpose for the future.
And delivering the inaugural lecture was shadow health secretary Diane Abbott.
Not known for her disinclination to engage with the media or her mainstream opinions, she identified as one of society's biggest challenges the phenomenon she describes as the 'crisis of masculinity', arguing that rapid economic and social change have affected male identity.
In the first of a number of speeches in which she will address the role of the modern family, Abbott said that unemployment, shifting gender roles and the economic downturn are creating, as a by-product, a generation of disaffected young men.
She said that the move away from traditional male roles in societal and economic terms, is fuelling homophobia, machismo and misogyny.
She said it is really to do with male identity – a lack of jobs, a change in traditional 'breadwinner' status and the 'pornification' of society have created a sense of disenfranchisement among boys and men and exacerbated the lack of respect for women's autonomy.
Abbott also said that pornography has a damaging effect upon men, and has added to the growth of a "Viagra and Jack Daniels" culture.
It is interesting that Diane Abbott uses the sex industry as yet another reason why men are behaving badly.
She said of Viagra: "Growing numbers of men of all ages [are] turning to the drug by themselves due to performance anxiety, triggered by a host of psychological issues – from our increasingly pornified culture making 'normal' sex seem boring, to financial pressures.
"It may be a secret, psychological crutch for some men, who are under pressure to meet a pornified expectation."
What does she mean, 'under pressure to meet a pornified expectation'?
The porn industry was neither created by nor for women.
Any expectation, as she puts it, is not on the part of women. Believe me.
And referring to it as 'our increasingly pornified culture' is ownership that I, for one, reject.
It is certainly not my culture.
She actually said "this pornified society is not something that men do to women."
Let's just say that one left me speechless.
All of this, Abbot said, has perpetuated a culture of 'hyper-masculinity' and created an ideal of manhood that is impossible to aspire to and fundamentally detrimental.
Social anthropologist Geoff Dench, who spoke at the same event, claimed that women's desire to excel in the workplace is making men feel unwanted.
Gosh, I wonder what that must feel like?
So this new generation of lost souls, for whom homophobia and sexism has become normalised is, Abbott says, the fault of the economy, and Dench thinks that women have a hand in it too.
He said: "We all need, both men and women need to feel like they are needed, and in this realm women are much more central and powerful than many of them like to recognize. Men are a bit marginal."
You can't ascribe male anti-social behaviour to not feeling wanted.  We are not talking about children here.
The problem with all of this is that it suggests mitigation – that homophobic, violent or  misogynistic behaviour in men can be blamed on the economy, on their sense of loss for days gone by when men knew where they stood, on the breakdown of 'normal' family structures.
But women's roles in society have been fluctuating for years.
During the Second World War women took on what were traditionally seen to be male roles in the workplace, filling gaps left by those who went off to fight.
When war was over, not only was the country in financial flux, but women had experienced a sense of emancipation and empowerment, taking on the role of breadwinner as well as primary carer in the family unit.
The fall of Britain as an industrial nation in the 1980s caused many women to go out to work to help support their families, and, at the time, the economic crisis had never been worse for working class families who no longer had mines or shipyards to support them.
So why is it only now that we are seeing a rise in misogyny, a testosterone fuelled backlash caused by economic and social change?
Forget mitigation.
Isn't it about choice?
You don't have to hate gay people. You don't have to resent women.
No one will make you do these things, particularly not the inanimate economy.
If we returned to the times Diane Abbott refers to, when men felt more needed, more defined, head of the household, master of the house, then that would put women firmly on the back foot once again, second class citizens who answered to their menfolk.
But to be fair, although mostly disconnected and slightly nebulous, some of what she said had a core of sensibility to it, in terms of the lived experience of some men today.
Yes, we need to teach our children to "see through gender stereotypes and sexualised media from an early stage."
Yes, we should condemn the consumer society in which we now find ourselves, which is teaching young people 'the price of everything and the value of nothing'.
Yes, there is a lack of decent male role models.
But maybe what we need is a new type of role model for our men and boys.
Not the soldier, the head of the family, the worker, the 'macho man' of old, but someone who is flexible and confident enough in themselves to evolve with a changing world and society, where women work and the sky doesn't fall in.
Where pornography isn't 'normalised' and homophobia is just crass and juvenile.
Any suggestions?